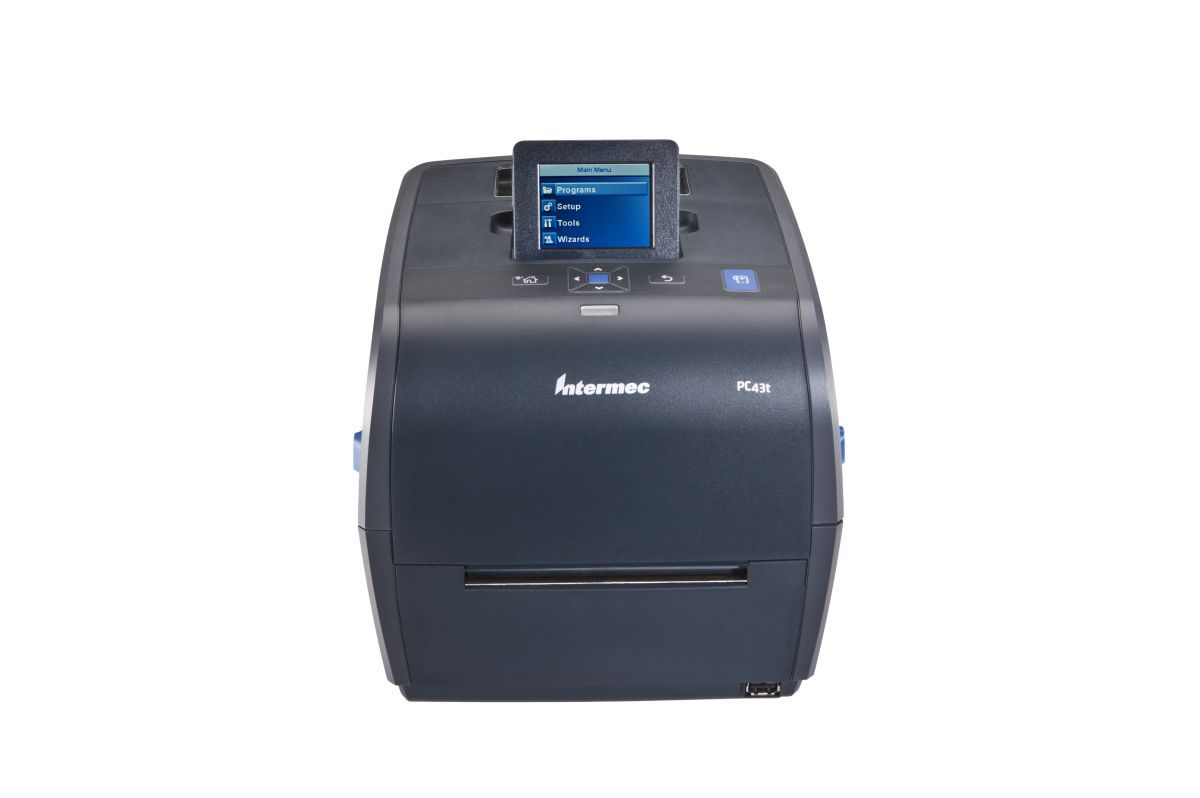 Honeywell PC 43 T
Simple to use and maintain, with easy one-handed media reloading.
Flexible, with user-installable connectivity upgrades and accessories.
This Smart Printer runs apps right inside the printer: you can add keyboards, scanners or other USB peripherals for increased efficiency.
Ten-language LCD or intuitive icon graphical user interface.
Comprehensive printer command language support, including ZSim2, makes upgrading easy.
Product Specifications
| | |
| --- | --- |
| Application | Healthcare |
| | Retail |
| | Hospitality |
| | Courier |
| | Transportation |
| | |
| Features | Elegant |
| | Flexible |
| | Healthcare Ready |
| | |
| Compatible Software | PrintSet |
| | Honeywell SmartSystems Foundation |
| | Wavelink Avalanche |
| | |
| Compatible Drivers | Honeywell Fingerprint Application Builder |
| | Honeywell Device Types for SAP |
| | InterDriver Windows |
| | CUPS for Linux |
| | |
| | 4 ips |
| | |
| Resolutions | 300 dpi |
| | 203 dpi |
| | |
| Character Sets | Extended Latin |
| | Monotype Universal Font Scaling Technology (UFST) |
| | Thai |
| | Turkish |
| | WorldType Layout Engine (WTLE) |
| | Vietnamese |
| | Baltic |
| | Baltic RIM |
| | Greek |
| | Hebrew |
| | Arabic |
| | Cyrillic |
| | English |
| | |
| Print Method | Thermal Transfer |
| | |
| | MaxiCode |
| | Data Matrix |
| | PDF417 |
| | Micro PDF417 |
| | Grid Matrix |
| | Code 16K |
| | Aztec |
| | QR-Code |
| | Dot Code |
| | Code 49 |
| | |
| Downloadable Font Type | TrueType |
| | OpenType |
| | |
| Linear Barcodes | RSS-14 |
| | HIBC 128 |
| | PLANET |
| | EAN |
| | MSI (Modified Plessey) |
| | HIBC 39 |
| | EAN-8 |
| | Plessey |
| | EAN-13 |
| | POSTNET |
| | UCC 128 |
| | |
| Printer Command Language | ESim (EPL) |
| | ZSim2 (ZPL-II) |
| | DSim (DPL) |
| | DP |
| | IPL |
| | |
| | 984 |
| | 300 |
| | |
| | WiFi |
| | Bluetooth |
| | |
| Network Specifications | Bluetooth v2.1 |
| | 802.11 b/g/n |
| | |
| RFID Specifications | RFID |
| | |
| | 128 MB Flash/128 MB RAM |
| | |
| | 100 - 240 V AC |
| | |
| Operating Frequency | 50 - 60 Hz |
| | |
| | |
| | 5 - 40 °C |
| | 40 - 104 °F |
| | |
| | 1 yr |
---